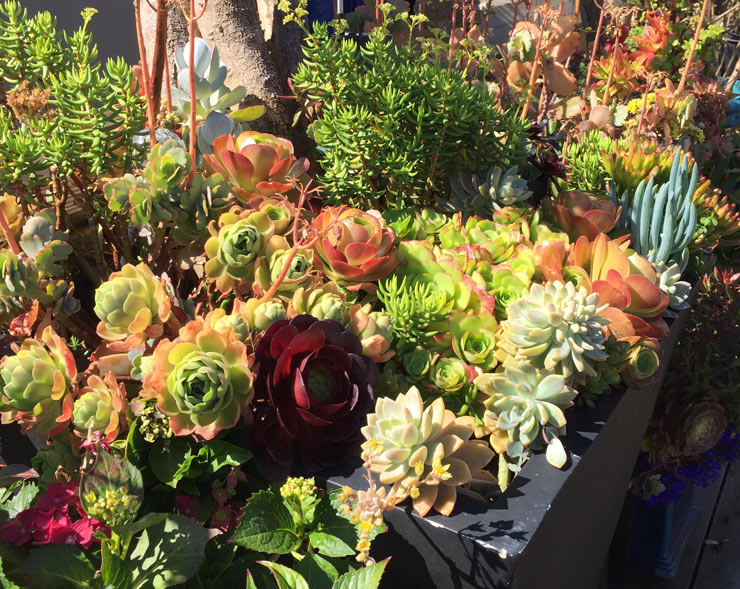 For the first time in a very long time the MMWD (Marin Municipal Water District) is giving a big green thumbs up to watering our plants. As you turn on your irrigation, check that your system hasn't sprung a leak. Hoses and nozzles degrade with lack of use as well as exposure to the elements. Think about taking up meditative watering, whereby twice-weekly you water your plants by hand—ensuring the plants are thoroughly soaked, but with minimal runoff. This will force you to slow down, and your plants will thank you. Or consider building water reservoirs into the bases of the planters (for which it helps to have the MacGyver gene) so that your plants take up water from the bottom, with the added benefits that there's usually enough water to last the week and it's even better for the plants.
---
Microclimates, Climate Change and the Gardener
Understanding our climate and our microclimates is key to choosing the right plants for our gardens, especially in the context of climate change. Come to the City Hall Council Chambers on Thursday, June 1 at 7:00 p.m. to learn how climate affects gardens and best practices we can employ to adapt them to climate change. Presenter Kathy Hunting, a Master Gardener since 2014, is an environmental health scientist by training. This program is part of a new series of talks by Master Gardeners presented by Sausalito Beautiful, in conjunction with the University of California Cooperative Extension Marin Master Gardeners.