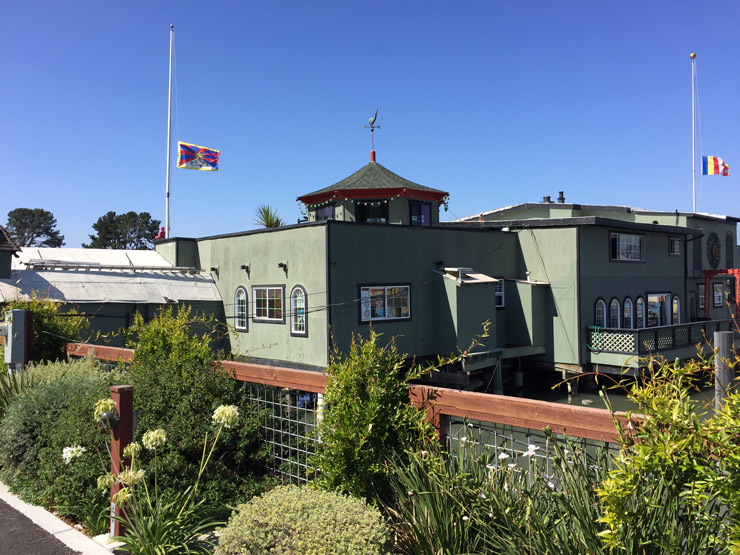 Fittingly, the flags flying at the Appleton Ark, when Ted Eitelbuss passed away on August 16, were the Buddhist and Tibetan flags. As is his custom, Nelson Scott lowered the flags for 24 hours
as did Van Damme's Claus Koestel, who dropped the (official) Gates Coop flag

along with someone flying the American flag at Issaquah West   |   photos and post by Jenny Stein
---
• impromptu gathering to remember Ted •
5 pm Sunday, August 19 — at the new WPH park 
Our dear neighbor Ted Eitelbuss died Thursday morning, Aug. 16. A full obituary will be posted soon. As the news spread around the waterfront community, flags were flown at half mast.
Issaquah is hosting an impromptu gathering this Sunday, Aug. 19, at the WPH grassy park at 5 pm to remember Ted. All are welcome!  Please let your neighbors know.
---
All are welcome to a memorial for Ted at Fernwood in Mill Valley this Thurs Aug. 23, from 2-3 p.m. Fernwood Cemetery and Funeral Home 301 Tennessee Valley Road, Mill Valley.
And all are welcome to an open house at Jenny and Ted's boat at 59 Issaquah—from 5 p.m. (following the memorial)—for all who would like to stop by, say hello, raise a glass. There will be food and drink, and please feel free to bring a bottle or a dish, if you feel so inclined.