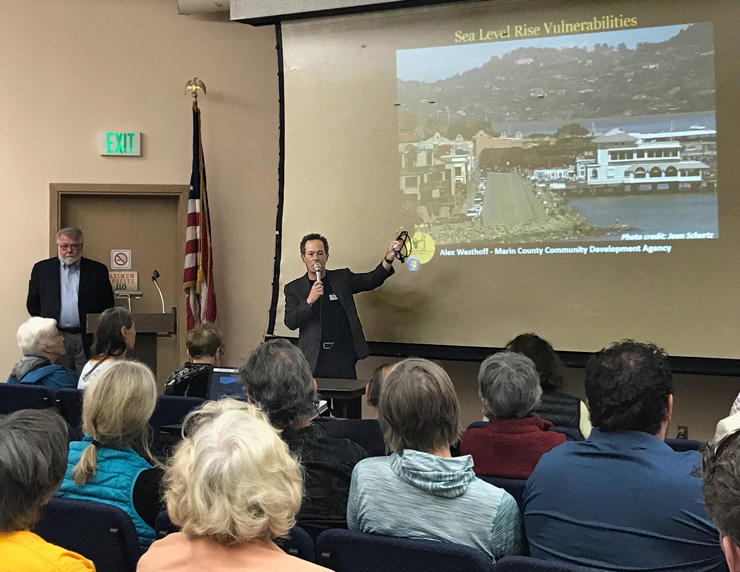 February 3, the meeting room at the Bay Model was standing room only, with at least a quarter of the attendees from the docks. The first keynote speaker, Dr. Andy Gunther, gave one of the clearest explanations—in lay terms—of the overheating of our planet due to climate change. He noted, "it's like a blanket we've put on that we can't take off."
His presentation was followed by Will Travis, who brought climate change effects to the Bay Area level, using grim humor about our dire situation. One dock resident asked, during the Q&A, if the houseboats were sitting pretty, as it were, when it comes to sea level rise. The answer was concrete. Our homes may be fine, Travis said, but it won't matter if there is no road or access.
What can you do? Expect to hear more from our leaders about how to plan for a future in which everything east of Bridgeway is flooded. For everyone in the FHA community, start collecting data on the height of king and high tides (take photos, keep a log). We'll need to persuade our marina owners to switch to floating docks, as can be seen over at the Charles van Damme dock.
Big Picture: By the year 2030 everything east of Bridgeway may quite possibly be flooded
Action: Drive less, walk more; eat less red meat, or as Michael Pollan is famous for saying, "Eat food, not too much, mostly plants."
We may yet be able to tear a hole in the hot blanket covering our planet.
---
Click here for the original Feb 9 2018 Sausalito Currents post: (link) Over 100 Attend Sea Level in Sausalito Event where you'll find individual links to each of the 3 video-recorded portions of the program. We've also dropped the following videos into this post—directly below each link—simply click on the white arrow to get things rolling.
additional links:
[an interactive mapping tool to project flooding and sea level rise, and view storm and king tides scenarios]