Steve Sekhon, Guy Biederman, Gigi Sims, Alan Poster and Michael van Walt (l. to r.) practice social distancing on South Forty Pier  |  photo by Malia Haas 
No distancing necessary for Wilford Welch and Carole Angermeir of East Pier  |  photo by Susan Huxtable
Davey Jones sets out to deliver dinner to neighbors  |  photo by Taylor Ray
Outside the pop up for Cibo and Croissami at the Portside Bakery on Gate 5 Road  |  photo by Tom Johnson
Sourdough bread, gluten-free muffins, sweet and savory croissants — something for everyone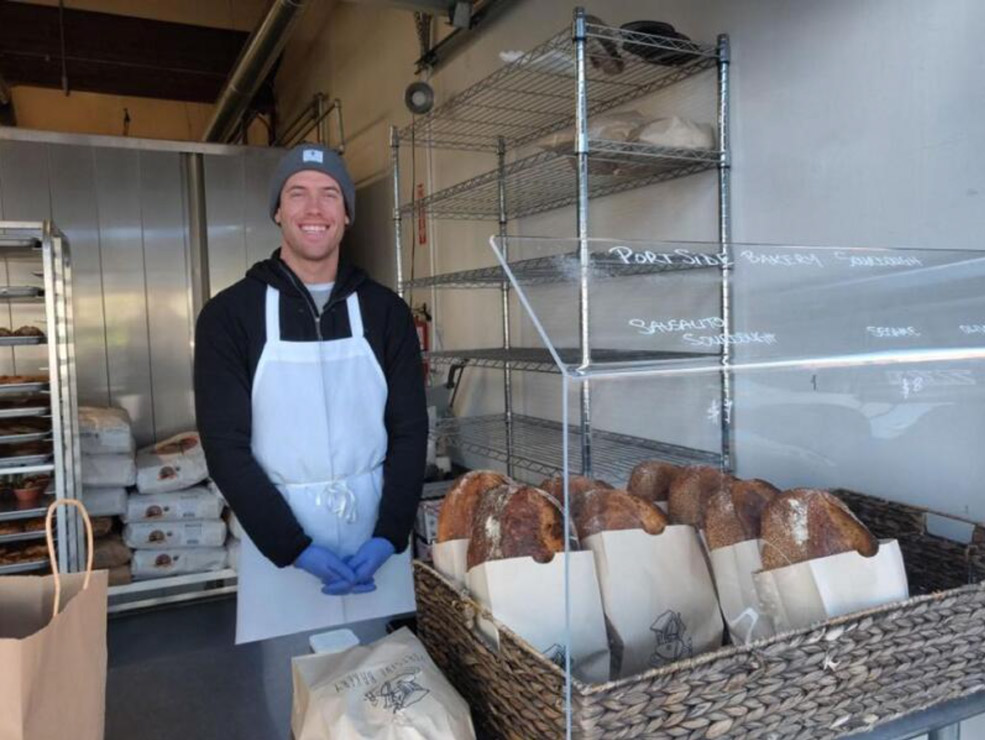 It's a safe set up, with distance between bakers and customers  |  additional photos Tamara Cotten
On Quarantine Day One, a turkey vulture appeared next door.  Gulp!  |  photo and post by Larry Clinton
---
Over the years I've been impressed with our community's willingness and skill at helping each other in times of crisis. That spirit of neighborliness has never been more evident than right now, during the coronavirus quarantine.
Almost as soon as the shelter-in-place order came down, notes began appearing on dock bulletin boards offering help to anyone who needed it. The less vulnerable offered to go shopping, share rides, and conduct other errands for those who couldn't leave home. I'm particularly grateful to those who shared photos, stories and tips for this article.
As reported last week, Davey Jones Johnson and Maria Finn of Van Damme Dock launched a reasonably-priced dinner delivery service called Port & Provisions.
Samantha Gordon of Gate 6 ½ partnered with the operators of the recently sold Cibo coffee shop to open a popup bakery within easy walking distance of our docks. Tamara Cotton of Issaquah Dock posted this rave review on Nextdoor: "What a delicious discovery! There's a wonderful commercial bakery at 200 Gate 5 Road in SAUSALITO that's selling 'Take & Go' bakery items out of their commercial kitchen, since their bakeries are closed."
By the way, Nextdoor is a good resource for sharing local news and opinions. You can join a forum for this or any other neighborhood.
Local restaurants like the Bayside Café, and Fish, no longer able to provide table service, have begun offering take-out or delivery options. You can find them listed on the city website.
Sausalito Books by the Bay will even deliver books, cards, jigsaw puzzles, or gifts. If we want these local businesses to re-open after the quarantine is lifted, it's best to patronize them now.
Survival Tips
Lots of residents and friends used email to share important tips.  Linda Green of Gate 6 ½ is a retired nurse and veteran of epidemics dating back to the HIV/Aids outbreak. She advised neighbors to keep their hands in their pockets outside the home. She props open the dock's entry gate during daylight hours and bleaches the handles on the gate and shopping carts. Kappas Marina has removed the doors from our garbage/recycling sheds to help avoid contact.
Linda cautions, "If you do get a delivery leave the bags outside, bring the contents inside, discard the bags and wash your hands. The same should be done with food delivery. Try to pay and tip online.
Linda also reminds us that it's time to put the venerable waterfront Free Box tradition on hold. It's best not to exchange personal belongings while the quarantine is in effect. If you must get rid of things, give them to Goodwill or toss them in the trash bin.
Sausalito Village offers these valuable shopping tips: Avoid using baskets or carts by bringing along your own vinyl shopping bags with handles. If possible, line with a doubled paper bag to create a solid bottom. If available use self-checkout and use your car keys or a pen at any keypad device.
And from New York, my stepdaughter Jennifer forwards this advice: Doctor groups are recommending testing and isolation for people who lose their ability to smell and taste, even if they have no other symptoms. Anosmia, the loss of sense of smell, and ageusia, an accompanying diminished sense of taste, have emerged as peculiar telltale signs of Covid-19, and possible markers of infection. Her husband Jared was infected with Covid-19 earlier this month and noticed these symptoms before any others. He has since recovered and is now immune to this particular virus strain.
Let's all stay safe, stay healthy and stay together. . . even if six feet apart.