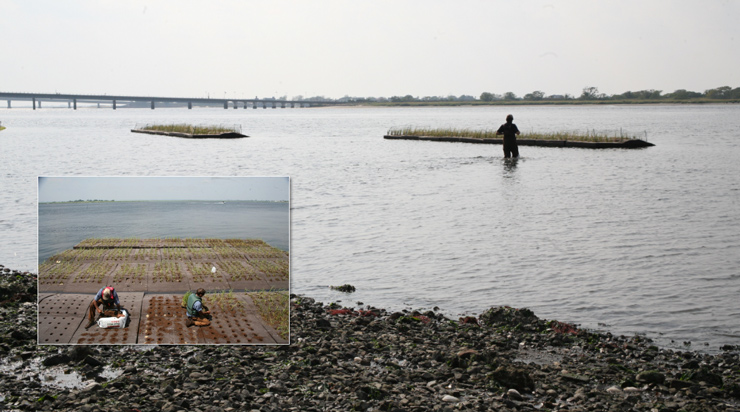 WHAT: Community Engagement Meeting
FOCUS: Adaptations to Sea Level Rise
WHERE: Bay Model
WHEN: Thursday, Jan. 17 from 6-8 PM
OUTCOME: Influence the creation of nature-based solutions on the Sausalito shoreline
When waves crash on our shoreline, they erode the land. As water levels increase, threatening even more damage to coasts, scientists are looking for solutions. To explore nature-based adaptations to sea level rise in the water around Dunphy Park, Conservation Corps North Bay (CCNB) is hosting a community engagement meeting on Thursday, Jan. 17, from 6 to 8 p.m. at the Bay Model Visitor Center.
East Pier resident Terri Thomas, CCNB Director of Natural Resources and Climate Resiliency, and the Ecology Intern Crew will give a presentation on nature-based adaptations and the oysters, eelgrass, birds, and marine mammals who live in Richardson Bay. They will also gather feedback and interest statements from the community about implementing alternative solutions for abating sea level rise along the Sausalito shoreline.
The CCNB received a grant from the Coastal Conservancy to look into the possibility of creating a nature-based wave attenuator near the Cruising Club. A wave attenuator acts to dampen waves, thereby reducing impacts to the shore and marinas and simultaneously conserving or enhancing habitat. For example, if a wave attenuator is made of oyster shells, it will attract more oysters that will filter the water and keep it clean while at the same time providing habitat for eelgrass and marine life.
Don't miss this Jan. 17 evening opportunity to learn more about our co-inhabitants and what changing sea level means for all of us. CCNB will be completing hands-on investigations with experts from Estuary and Ocean Science Center (formally Romberg Tiburon), the Smithsonian Environmental Research Center, Richardson Bay Audubon Center and Sanctuary and ESA. Results will be then used to create outreach materials and interpret findings for the community.
---
CCNB is a 37-year-old organization with one simple goal: to engage and empower our youth by teaching them to cultivate and preserve the environment. CCNB provides opportunities to a diverse group of youth and young adults to transform their lives through paid work, education, employability, civic engagement, and leadership, all the while caring for our environment by conserving and restoring natural resources in recreational and public places.