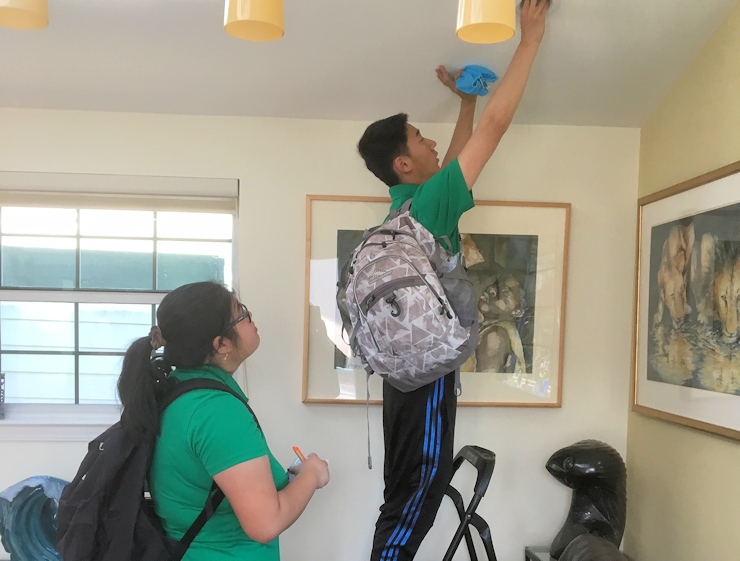 I recently got new energy-efficient Light Emitting Diode (LED) bulbs and water-saving faucet aerators installed at no-cost, courtesy of the Rising Sun Center for Opportunity.
Rising Sun has been in service with local communities since 1994, training and employing underserved youth and adults in the Bay Area and San Joaquin County to build resiliency, combat climate change, and fight economic inequity. Their Climate Careers program helps California meet its greenhouse gas reduction goals while placing youth in need of opportunity on a path to success.
Thanks to a referral from a neighbor, I arranged for a Green House Call by two young Energy Specialists, who conducted an energy assessment of our home and then provided the no-cost energy and water-saving measures, mentioned above. The new LEDs consume up to 90% less power than our old incandescent bulbs. Since LEDs use only a fraction of the energy of incandescents, we're looking forward to a decrease in our electric bill.
After conducting a water flow test, they found two that were water inefficient. To help us reduce water waste, they exchanged out the aerators on our faucets so that we received the same pressure, but consumed less water. They even took our old inefficient materials away for recycling!
Rising Sun schedules these Green House Calls every summer, employing students during their summer vacations. This year, the program runs through August 8th, so if you'd like their help, call 510-665-1501 or visit their website right away.
While there's no cost for the replacements and installation, Rising Sun does accept tax-deductible donations, and we were happy to pitch in.