Bruce Thomas welcomes Roxanne Fairbairn and Peta Forbes (l. to r.)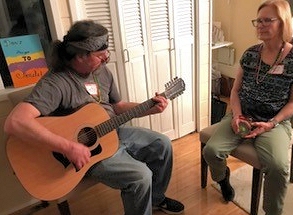 Dave Pangaro serenades Terry Thomas
Jenny Silva and Jeff Davis generously hosted the Mardi Gras Pop-up
Laissez les bontemps rouler!  |  photos by Susan Huxtable  |  post by Larry Clinton
Bruce Thomas, who once lived in New Orleans, hosted a Mardi Gras pop-up dock party on Fat Tuesday.
The party was actually held at the home of Jenny Silva and Jeff Davis. Dock residents festooned in beads and masks feasted on jambalaya and kings cake, with plenty of appropriate libations.
The photos in our slide show are a bit fuzzy, but maybe that's to be expected, considering the occasion.